About Us
Hartford City Foam is equipped with the most technically-advanced equipment. This specialized equipment includes: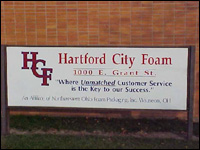 - SHERIDAN FLAT BED DIE CUTTING PRESS
- SEYBOLD DIE CUTTING PRESS
- POHLAR GUILLOTINE
- PRECO PRECISION FLATBED DIE CUTTING PRESS
- DUSENBERRY SHEAR OR RAZOR PRECISION SLITTER
- LEVER LATHE CUT SLITTER (BOLOGNA SLITTER)
- HAMBLET ROTARY SHEETER
- AMETEK SHEETER
- POUCHING MACHINES
- BAND SAWS
- CAMERON/SLITTER/REWINDER
We die-cut, slit, slice, and sheet a full range of materials, including various kinds of board, fabric, film, corrosion inhibitors, foam, special papers and wadding. We will work with polypropylene, polyethylene, polyurethane foams, cellulose wadding, woven and non-woven fabrics to create cushioning.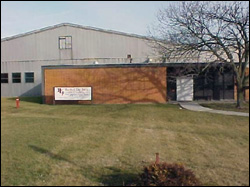 Hartford City Foam has die-cutting presses, and can work with a wide range of materials in sizes to 55" by 36" in a variety of shapes and designs.
We will custom-sheet materials for many uses, utilizing polyethylene, polypropylene foam, paper and film.
To help you expand your use of pouching, we design and create all kinds of polypropylene foam pouches, in either anti-static pink or white.
At Hartford City Foam, our problem solving creativity includes slitting and rewinding an incredible range of material, such as electrical insulation, kraft paper, gasket stock, films, polycoated paper products, VCI grade materials and non-woven fabrics. These materials can be slit and rewound to meet customer specifications and delivered on either 3" or 6" cores.
Our emphasis is on customer service...that's what we really have for sale!