Pouching
To Streamline Your Shipping, A Customized pouching Approach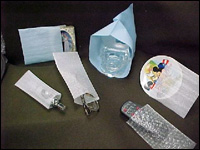 At Hartford City Foam, ideas are our specialty. To help you expand your use of pouching, we design and create all kinds of polypropylene foam pouches, for a comprehensive range of uses, in either anti-static pink or white. We can make pouches in sizes ranging from 4" deep and 4" wide to 36" deep by any desired width. We also utilize a non-woven pouching fabric which has a neutral pH that greatly retards tarnishing and corrosion. As an example, when sewn into bags, this material provides manufacturers of silver electrical contacts a neutral container that cushions and packages their products. This is just another problem solved by our fabricating division.
We make custom sized protective bags, pouches, sleeves and tubes from a wide variety of substates, including polyethylene foam, polypropylene foam, foam laminated to film, foam laminated to metallized P.E. film, bubble wrap, and a spunbound polypropylene with a neutral PH that retards corrosion and makes an excellent curing bag. We can make all of in depths up to 36" and widths up to 240"..... to continuous tubes and sleeves.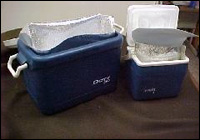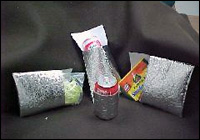 With our new P.E. film/P.E foam laminate we can make pouches that not only offer cushion protection,
but they can also help insulate to keep hot items hot and cold items cold!!
Where customer service is our business!
When it comes to your protective pouch needs, we can "bag" the answer!!